Up Next:
Summer Speaker Series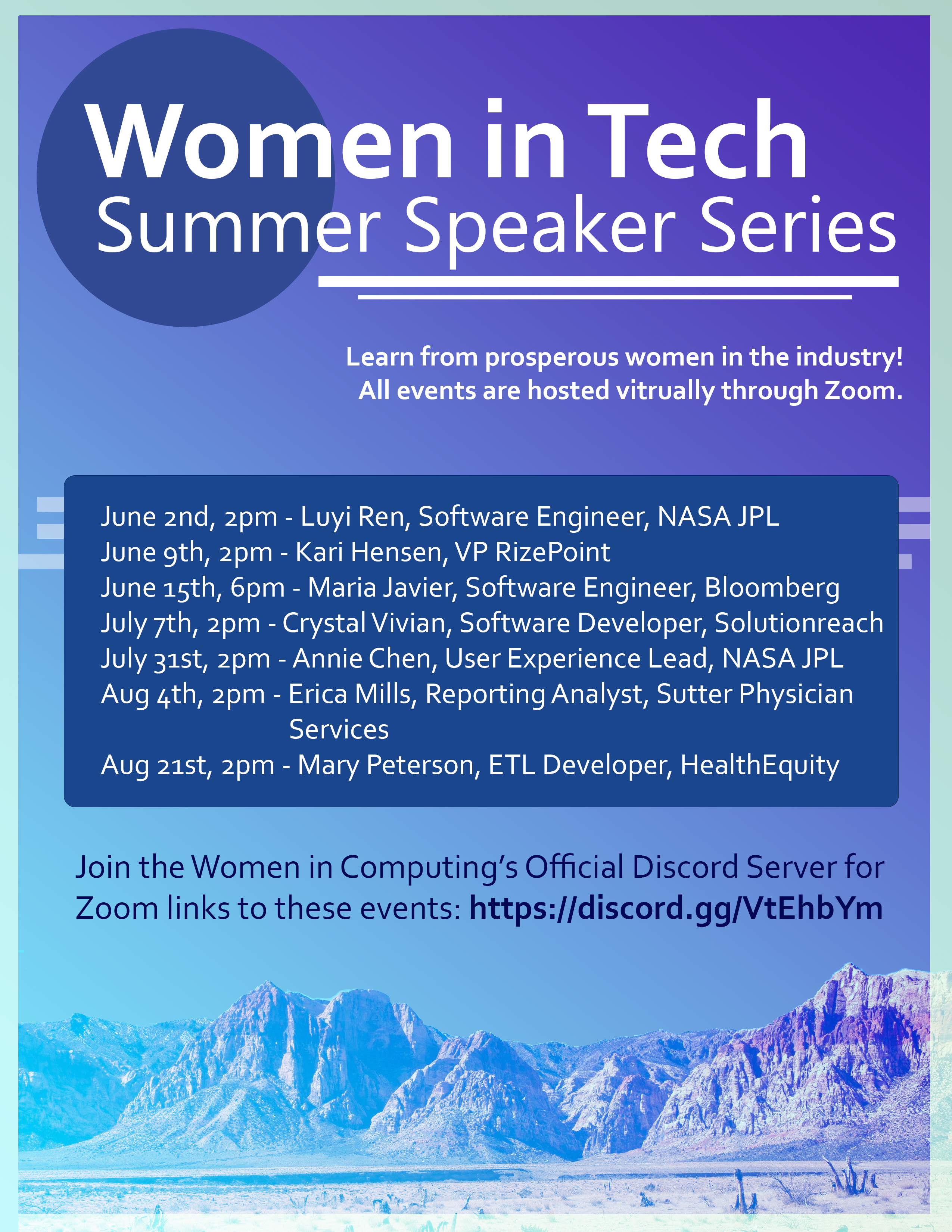 Where:   Zoom, links provided in the WiC Discord Server
When:   7 Different Dates: June 2nd, 2pm; June 9th, 2pm; June 15th, 6pm; July 7th, 2pm; July 31st, 2pm; Aug 4th, 2pm; Aug 21st, 2pm
What:    Throughout the summer, we'll be speaking with some incredible women in the software and engineering industries. We'll be hosting this on Zoom, but the Zoom links will be in our Discord server.
Who:    Luyi Ren, Kari Hensen, Maria Javier, Crystal Vivian, Annie Chen, Erica Mills, and Mary Peterson
---
Online Movie Night: Bombshell: The Hedy Lamarr Story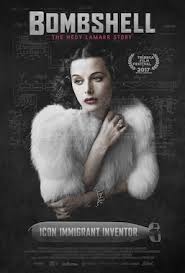 Where:   Women in Computing Discord Server
When:   Friday, March 27 at 7:30pm (movie starts at 8:00pm)
What:   We'll be watching the documentary on Hedy Lamarr, a women who developed the ground work for the BlueTooth technology we have today.  It will be streamed on Discord. Join our Discord server at 7:30 to hang out and get a bit of socializing that you've been missing, and watch the documentary with us at 8:00! The invite to our server is posted on the U of U CS server, and will probably be posted on our instagram on Friday (if anything, just contact us through email or instagram and we can send you the invite).
Who:   You! And everyone in the WiC community!
---
Pizza With The Professors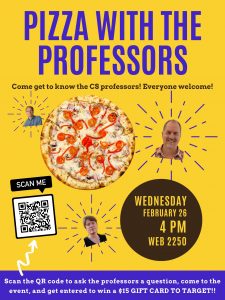 Where:   WEB 2250

When:   Wednesday, February 26 at 4:00pm

What:   Come get to know the CS professors! This is a great opportunity to ask your professors about anything! Like courses they recommend, why they became a professor, research opportunities they have for students or what their favorite color is! It will be fun to make new friends, network for letters of recommendation, eat free pizza, and most importantly: see that professors aren't really scary!
So join us! We can't wait to meet you!
P.S.    Fill out this survey to submit questions that we'll ask the professors! If you come to the event you'll be entered to in a $15 gift card to Target!
Who:   Dr. Parker, Professor Zachary, Professor Johnson, Professor St. Germain
---